THE OSUN INDIGENES ORGANIZATION
"Always there to share"

ite











What we do...

Check back often for the plan status of our Medical Mission to Nigeria. You can contribute by sending your opinion to
Osun Secretary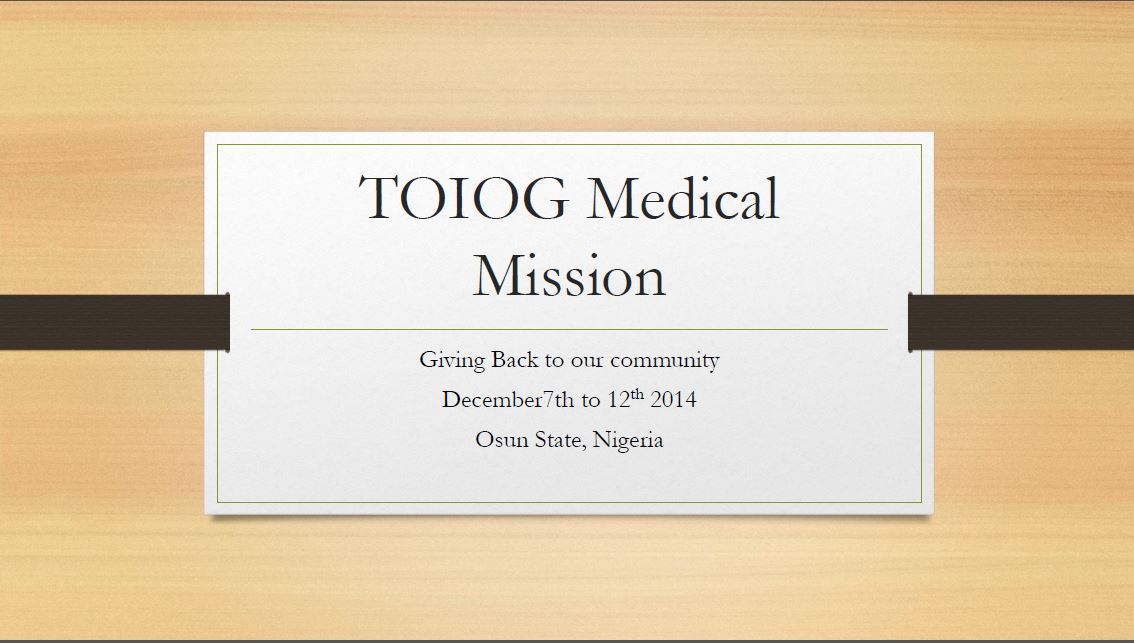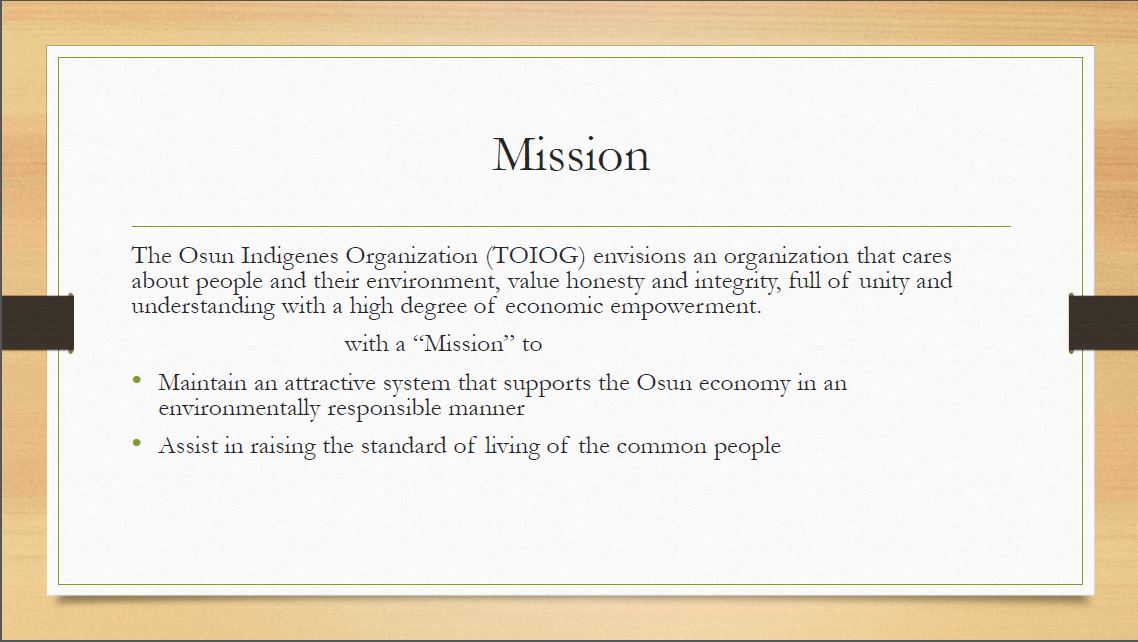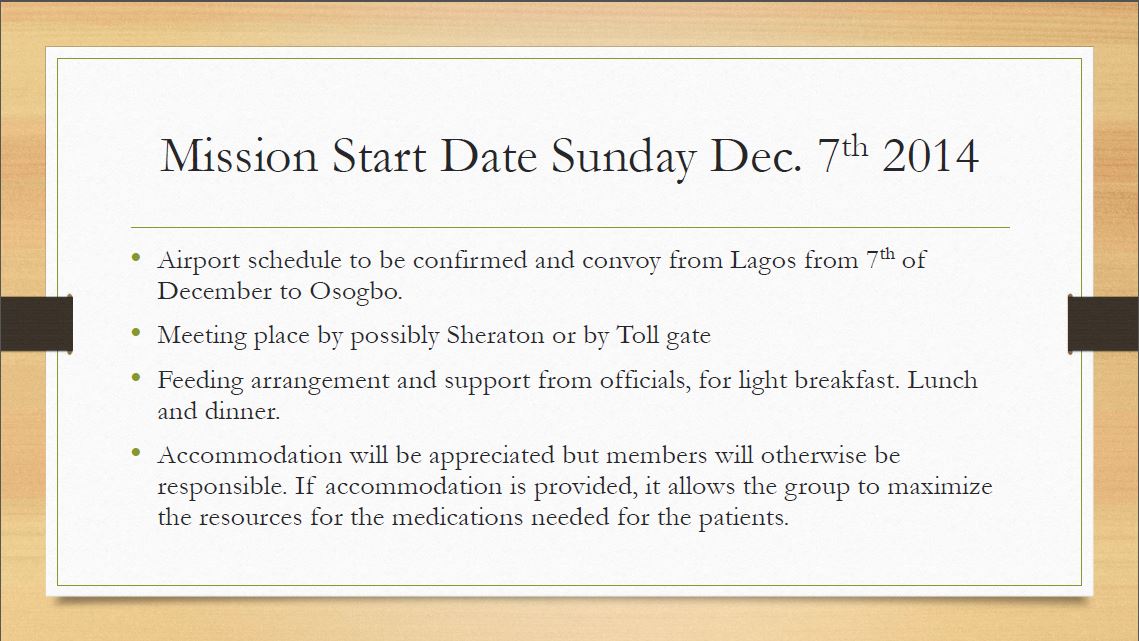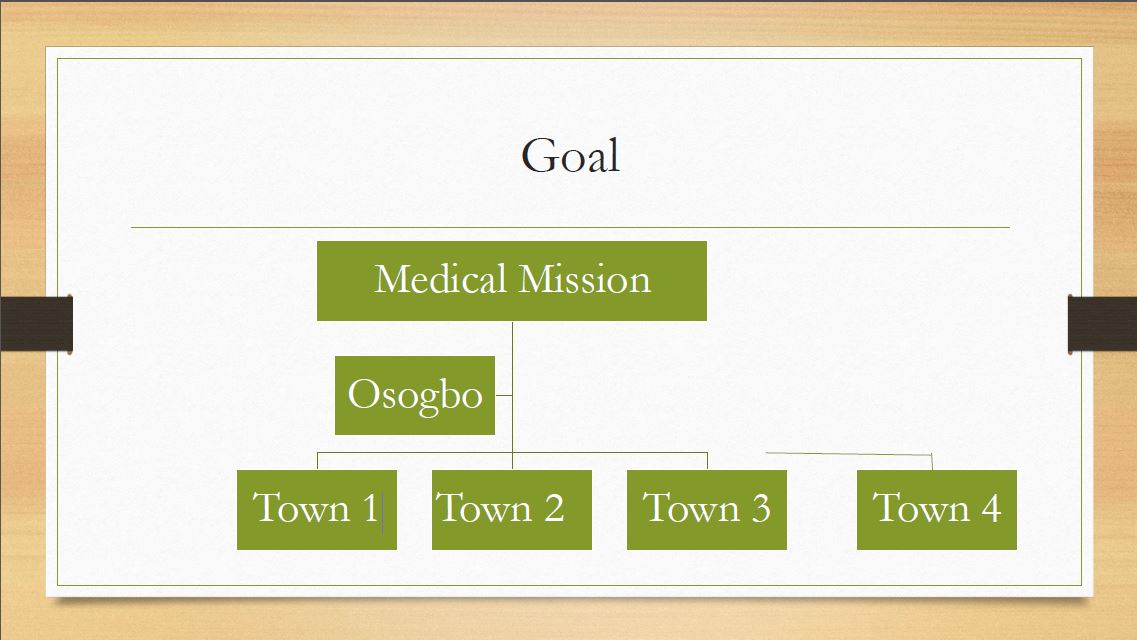 INTERNATIONAL MEDICAL MISSION
We recently concluded our 2014 Medical Mission on the first week of December. Our Medical Practictioners visited four locations in addition to Osogbo. The locations are Erin-Osun,Inisha, Iragbiji, Atakumosa, and Ile-Ogbo
OUR REQUEST FOR DONATION OF DRUGS

Dear Sir,
I am the Chairman of an organization called "The Osun Indigenes Organization" (TOIOG).
We are a nonprofit (501-C) organization that has been in existence for 20 years and based in Maryland, USA. The focus of our Organization is "giving back to a community" both here in the United States and in Africa. Every year in the United States, we donate food baskets to the nation's capital, Washington DC. We have donated school supplies to impoverished children and wheelchairs to the handicapped in Africa. In addition we give annual scholarships to disadvantaged needy high school students in Africa in order for them to pursue higher academic degrees. Recently we have decided to embark on biennial medical missions to Africa and it is on this note that we are writing this letter to your esteemed company.
We are hereby seeking donations of drugs and/or medical supplies from your company so that we will be able to carry out our medical missions successfully in Africa. We hope and pray that you will oblige with our request. During our medical missions which will be carried out by member health professionals (physicians, nurses, pharmacists, and medical technologist) in our organization, we will donate these drugs and medical supplies free of charge to the needy. In the majority of these communities, basic health care is woefully lacking and epidemic diseases are rampart. We thank you immensely for your support. We know that your help will go a long way to alleviate pain and suffering in Africa. Once out missions are complete, we will keep you informed of out success. Yours Faithfully,
PRESS RELEASE: MEDICAL MISSION
3,000 persons benefit from Osun free medicare by BOLADALE BAMIGBOLA on Dec 15, 2014 | 1 comment Posted under: News
No fewer than 3,000 people have benefited from the free medical treatment carried out by a team of medical experts from Osun State based in United States of America.
The medical team led by Dr. Oluremi Ilupeju visited Osun for a five-day free medical treatment for people of Erin-Osun in Irepodun local government, Inisa in Odo- Otin local government, Iragbiji in Boripe local government, Ile-Ogbo in Ayedire local government and Osu in Atakunmosa-West local government council of the state. During the exercise, the team offered to foot the bill for the surgery of 40-yearold Rachael Akinola, who has been battling with hip pains for 20 years in the USA.
Akinola, reportedly an orphan, got injured in a ghastly motor accident that also claimed life of her husband. After treatment at Igbobi Orthopaedic Hospital in Lagos, she was abandoned by her relatives and later discharged over her inability to bear cost of the treatment. However, after x-ray was conducted on her during the free medical exercise, the medical team agreed to facilitate Mrs. Akinola's further treatment in USA. Ilupeju disclosed that Akinola would require $200,000 for the surgery, adding that the association would foot the bill for the treatment.
The medical team had earlier visited some handicapped and homeless places in the state where they donated medical items worth several millions of naira and conducted free medical checks on the children.